About Gatlin Fence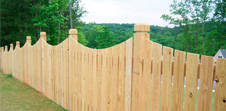 Gatlin Fence company was established in 1997 by David and Jodi Gatlin, the business idea came from earlier years of working with family in Georgia that were in the fence business as well. After needing a fence project completed in 1996 for ourselves without finding a satisfactory price for the amount of work desired, we decided to open our own company in Baldwin County and change the way fencing was done.
We wanted to offer a great product, great service with a hometown atitude at an affordable price. I believe we accomplished our goal and business grew at a rapid pace. By 2001 we were operating in Mobile county as well, business continued to grow and we slowly moved west with our area, by 2006 we were operating along the Mississippi gulf coast to the LA line and as far north as Laurel, MS with sales continuing to grow. By the middle of the recession we were forced to pull back to our original base and only cover Mobile and Baldwin counties. Our employees are highly trained to install fence and communicate with costumers on the job.
Experience
We take pride in every job we do large or small. Every customer is important. We believe if a project is important to you then it's even more important to us.
We specialize in residential and commercial fencing, the gulf coast zoo is one of our favorite jobs and being on episodes of "The little Zoo that could" filmed by the Discovery channel was a special experience for our company that we will always remember. Waterville USA in Gulf Shores is also a favorite place of ours to work, we have been helping them in their continued improvements for several years and are currently working through 2011 on their newest fence projects.
We like to use American made products like Ultra Aluminum for our ornamental fencing, Apollo gate operators for our access control needs and Bell fence products for regular fence supplies, all made in America.
What we can do
We install any type of fence needed, from farm fence to the most elegant ornamental fence, we specialize in:
automatic gate operators(solar powered for maximum dependability during bad weather and energy savings).
ornamental aluminium and steel for residential and security needs
chain link fence
wood privacy fence
shadowbox fence
vinyl fence
picket fence
split rail fence
board fence for horses
We also do custom fencing! If you can dream it we can build it!
We offer free estimates on installed jobs, we also do estimating on commercial jobs and takeoffs from plans and prints.